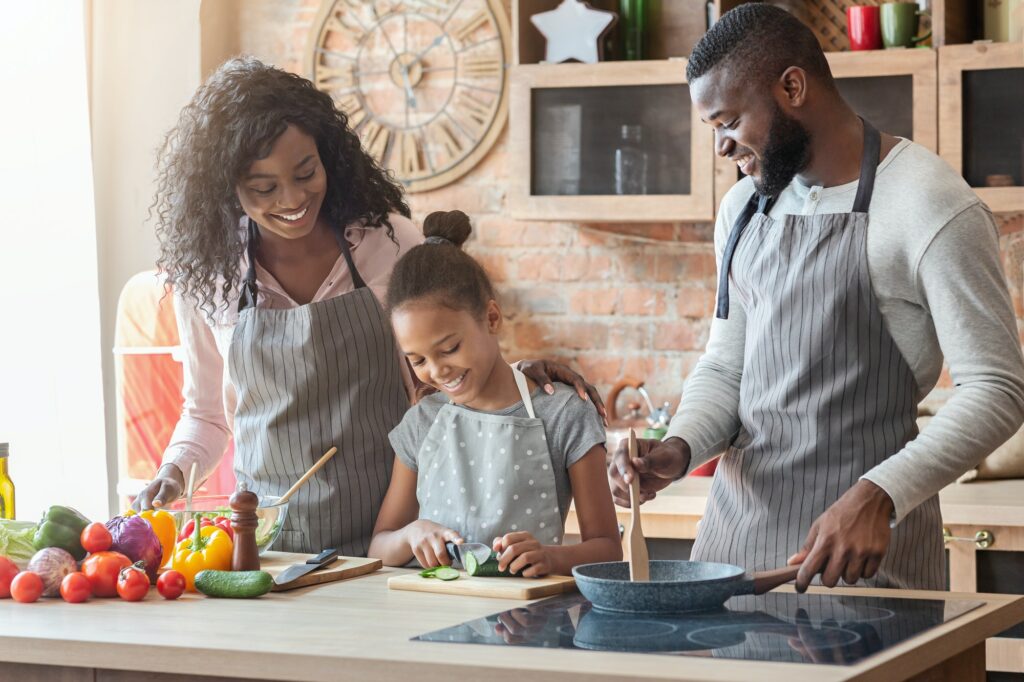 There is a lot of news swirling regarding the housing market, rates and home prices. It is normal to have questions, and be at least a bit confused. Forward Loans is here to cover some of the most advantageous loan programs for first time home buyers. Knowing what options are available and how to structure offers will be vital in your home buying adventure.
Get into the right mortgage for you.
Apply online for expert recommendations with real interest rates and payments.
The most important thing to remember is that, this is a process.
Set goals for yourself throughout. Understanding and educating yourself on all aspects of the home finance and home buying process will help you reach your ultimate goal. Buyer fatigue is a real thing. So, having the right team around you, educating and guiding you is essential.
Below is a brief illustration of what to expect using our "Home Buying Timeline".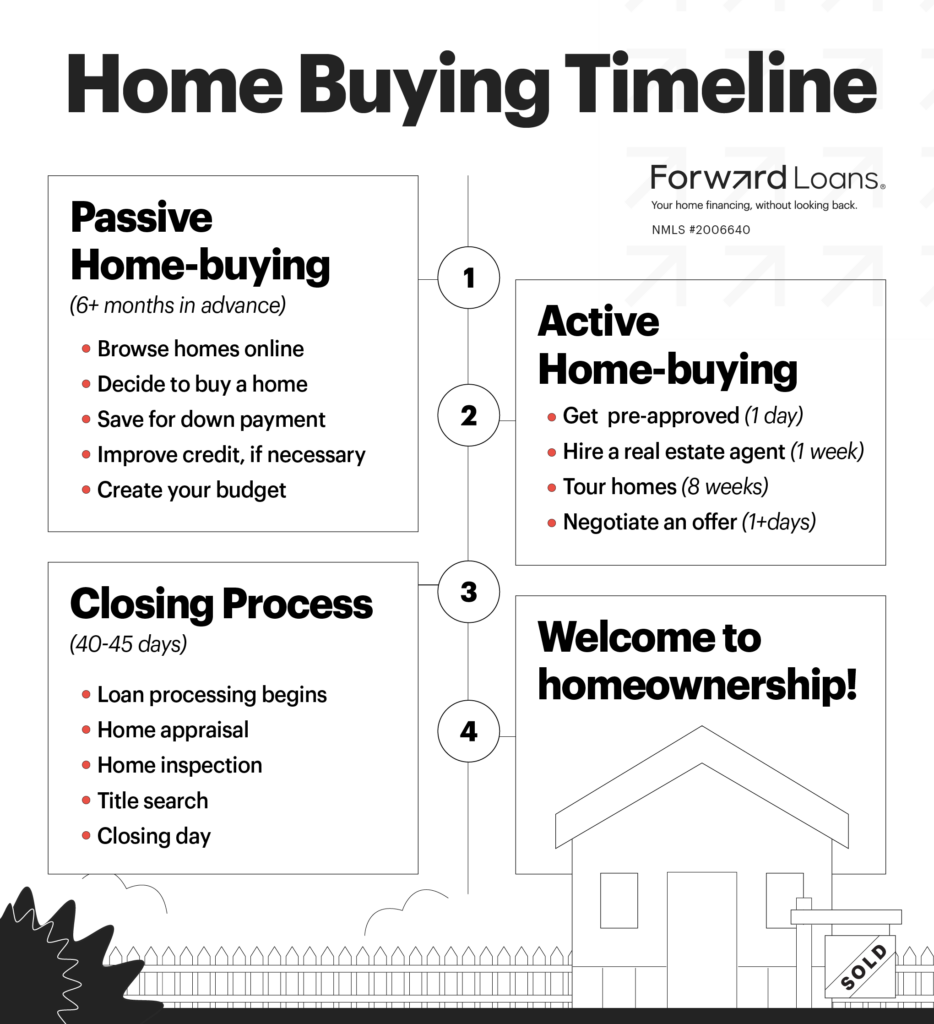 Preparing Finances and Down Payment
Down payment requirements for many home loans often surprise first-time home-buyers. For this reason, personal finance education provides considerable benefits.
Research different loan programs ahead of the purchase process to know how much you'll need for a given loan. Save money to meet the required down payment to lower your monthly payments and reduce your loan's remaining balance.
Next, calculate your monthly mortgage payment based on lender and mortgage terms. Then, weigh this sum against your current finances. Ensure that the projected monthly payment, including homeowners insurance, remains affordable before proceeding.
Remember that student debt can impact your eligibility for a home loan. Fortunately, lenders will work with buyers who carry student debt, provided those buyers meet qualification requirements.
Knowing the Market
An experienced real estate team can assist in negotiating programs and structuring finances in a higher rate environment. Programs such as a Seller-paid 2-1 Rate Buy-down on a mortgage purchase is a type of loan financing option in which the seller of the property pays the mortgage lender a lump sum at the time of sale. This lump sum is then used to reduce the interest rate of the loan for the first two years of the loan term. This type of buy down allows the buyer to pay a lower interest rate for the first two years of the loan, saving them money on their monthly mortgage payments. Additionally, the buyer may be able to qualify for a larger loan amount due to the lower interest rate, allowing them to purchase a more expensive property. Finally, because the seller is paying the lump sum, the buyer does not have to come up with the additional funds.
Assume the interest rate is 4.5% and the loan term is 30 years.
Without a buydown:
Monthly Payment = 600,000 x 0.045/12 = $2,250
With a 2–1 rate buydown:
Year 1: Monthly Payment = 600,000 x 0.033/12 = $1,650
Year 2: Monthly Payment = 600,000 x 0.039/12 = $1,950
Year 3+: Monthly Payment = 600,000 x 0.045/12 = $2,250
Seeking Professional Guidance
Real estate prices vary widely between rural and metropolitan areas. Look at the real estate market in your target buying area before considering which types of loans you need.
Remember that your real estate agent plays a significant role in the success of your home purchase. When you begin your home search, work with a real estate agent you trust.
Buying a home comes with many twists and turns that may overwhelm buyers. Remember, industry experts can guide you through every step of the purchase process. These steps include preparing for a home loan, market searches, home inspection, closing on your first home, and more.
Types of Loan Programs for First-Time Home Buyers
Government Programs
The federal government offers first-time home buyer programs. These programs help those wanting to purchase a home.
Federally-funded home buyer programs provide much-needed assistance for low-income families. They're an excellent choice for those who can't afford a down payment on a mortgage.
Down Payment Assistance
Required money down presents significant challenges for many first-time home-buyers. As a result, many lenders accept down payment assistance (DPA).
DPA typically consists of grants or minimal-interest loans. As a first-time home buyer, you have exclusive access to many of these grant and loan programs.
Closing Cost Assistance
Like money down, closing costs make up a considerable portion of the final purchase price of a home. Some programs provide first-time buyers with financial assistance to ease these added costs.
First-Time Homebuyer Grants
State programs provide first-time home buyers with additional help with costs. Grants don't require repayment. Furthermore, they can significantly reduce the amount of money a buyer will spend over the lifetime of a mortgage.
The US Department of Housing and Urban Development offers a detailed listing of loan programs, sorted by state. Review these options when planning your home buying journey.
In addition to the above assistance programs, certain tax credits exist for primary residences and some secondary properties. These include a mortgage credit certificate for low-income families, purchase price credits, and more. Speak to your trusted tax professionals to understand which tax breaks apply to you as a first-time homebuyer.
Home Loan Programs for First-Time Buyers
The Conventional Loan
Otherwise known as conforming mortgage loans, conventional loans make up a significant percentage of first-time home buyer loans.
Conventional loans conform to lending guidelines established by Fannie Mae and Freddie Mac. These loans make great choices for a first-time home buyer with good credit and a down payment of at least 3%.
Be aware that some conventional home loans require a buyer to pay at least 10% upfront.
The FHA Loan
The Federal Housing Administration can provide an FHA loan. This loan offers a fantastic home-buying option for buyers with below-average credit scores.
Because FHA loans require added mortgage insurance premiums, these loans may result in higher overall costs. Consider the impact of public and private mortgage insurance on these and other home loans before committing.
VA Loans
VA loans are available through private lenders and guaranteed by the Department of Veterans Affairs. They help retired and active service members buy a home with as little as 0% down.
VA loans consistently carry some of the best mortgage rates compared to other programs. Qualifying buyers can save on money down, interest, and total loan commitments. The VA loan program also offers methods for a current homeowner to refinance their existing mortgage.
As with other home loans, a first-time home buyer must meet certain parameters. Namely, applicants must meet the private lender's minimum credit score and debt-to-income ratio requirements before receiving approval.
Get into the right mortgage for you.
Apply online for expert recommendations with real interest rates and payments.
The USDA Loan
Popular among first-time buyers, a USDA loan carries a low loan interest rate and reduced upfront costs. In this way, USDA loans create affordable housing opportunities that extend beyond rental homes.
However, these loans come with some limitations. On top of higher minimum credit scores and sales price restrictions, USDA loans require homes to be located or built within designated rural areas.
Requirements for rural designation change. Check with current USDA loan requirements to learn more.
The Chenoa Down Payment Assistance (DPA)
Our most popular first time buyer programs uses the Chenoa Fund. The Chenoa fund is a nationwide down payment assistance (DPA) program It provides looking to lower the barrier to homeownership. The fund gives up to 3.5% of the purchase price of your home to cover your down payment when pairing it with an FHA Loan.
How much down payment assistance if offered through The Chenoa Fund?
The 3.5% that the Chenoa Fund provides is in the form of down payment assistance. This comes in the form of second mortgage loan products. These loan product choices are either forgivable (no repayment) or non-forgivable (repayment). There are 3 product structures for the fund.
Chenoa Fund Rate Advantage program
The Fund Rate Advantage program is the Chenoa Fund's most popular program. Borrowers can lock a competitive rate on a primary home, while receiving 3.5% DPA for the loan.
This program has a minimum 640 FICO score and a maximum DTI or debt-to-income ratio of 50%. There is an income limit for this program, which is set at 135% of the median income level in the county that you are purchasing the home.
This program has a repayable 10 year term at an interest rate of 8% as of the time of this article.
Chenoa Fund DPA Edge
The DPA Edge program however boasts a "Soft Second" for its DPA. Many borrowers with lower income choose this option for the fact that you don't have to pay it back, with some stipulations of course.
Borrowers will still need a FICO of 620 as a minimum bar of entry, and DTI can be no more than 45%. If these stipulations are met, the second mortgage requires no monthly payments, and the mortgage is forgiven after 36 months of on-time payments being made. This means if you have one payment that is over 30 days late, the DPA 36 month timeframe resets once.
Income limits are the same as the aforementioned Fund Rate program.
Chenoa Fund Edge Repayable Second product
Finally the Edge Repayable Second. This option has no income limits to qualify for the DPA. Minimum credit scores and DTI remain the same as the other Chenoa products. The second mortgage options on this product are either 10 year repayment term at 0% interest, or 30 year repayment term of the DPA at 5% interest rate.
Homebuyer tip:
You may qualify to borrow more money than you are comfortable spending on a home. Explore the mortgage amount that best fits into your overall budget.
Start Shopping for Your Home Today
From decoding mortgage terminology to sorting through mortgage companies to find the perfect fit, first-time home buyers have a lot to consider when starting. Fortunately, first-time home buyer programs and the qualified mortgage professionals at Forward Loans, help point buyers in the right direction.
At Forward Loans, we empower the home buyer to make informed decisions about their mortgages. If you're considering buying your first home, explore your options for a mortgage online through our pre-qualification form.
To speak with our experts directly, call us at (602) 730-2270. We'll tell you what Forward Loans can do for a first-time home buyer in your area.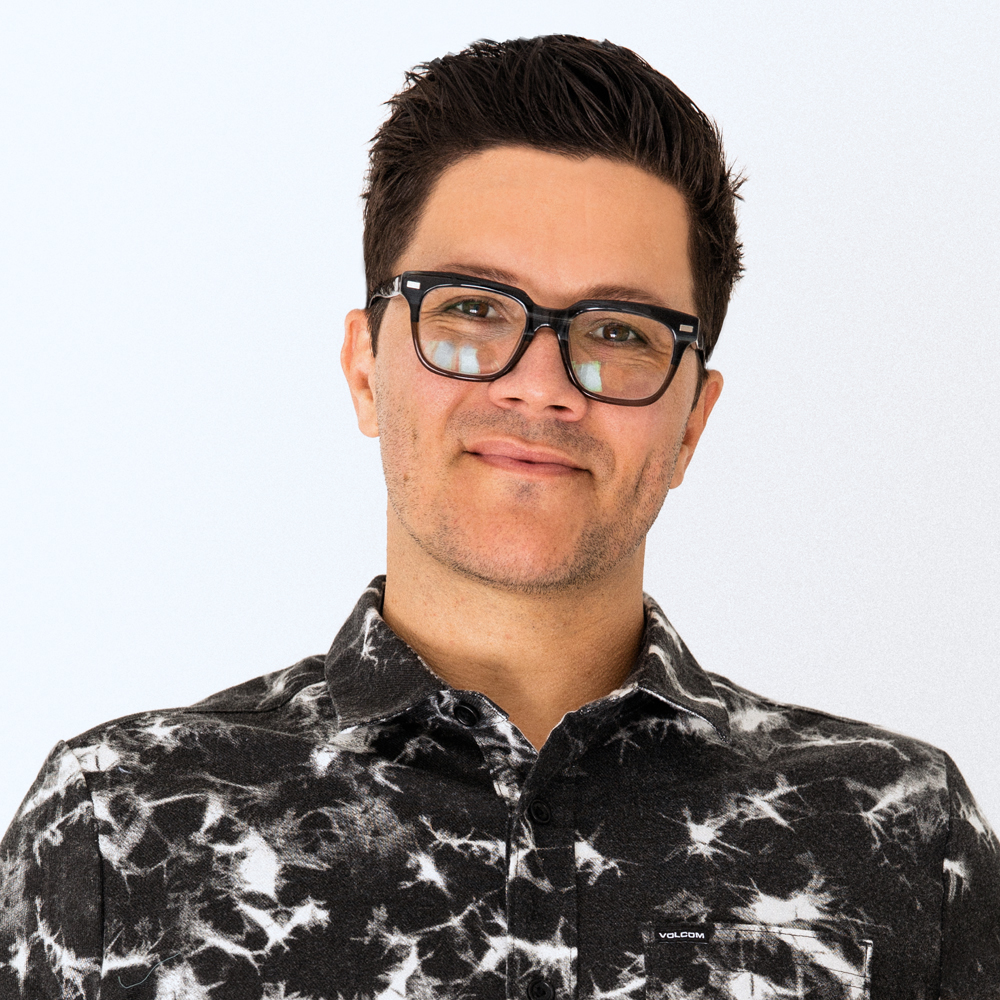 Michael Creel is a veteran in the marketing industry, with a proven track record of helping brands in the real estate and lending space build a strong presence across a number of social platforms.
He's built and implemented several marketing strategies and installed the digital and social framework to support several mortgage teams, loan officers, realtors, multiple new home builders as well as various brands in other spaces.
In 2020 Michael opened Forward Loans, a duly licensed mortgage brokerage, offering digital strategies and marketing automation to loan officers, while focusing on process and service for clients and employees.