The residential housing market has been a runaway train since the middle of 2019, with May of 2022 finally bringing signs of a slowdown. As we have likely seen the the peak, anticipation of the next phase of the cycle waits anxiously. What is the downhill slope and do we have any guard rails?
Housing Market's Top Economists Do Not Believe We're in a Housing Bubble
Zillow and Pulsenomics released their Home Price Expectations Survey for Q2 of 2022. The survey, released each quarter, survey's panel of over 100 economists, investment strategists and housing market analysts about their 5-year expectations for future home prices in the United States.
Of the 114 economists surveyed , participants said they expect home prices to appreciate 4.8% on average per year over the next 5 years. Cumulatively, they expect over 26% appreciation through 2026.
Respondents were also asked, "Do you believe the U.S. housing market is currently in a bubble?" Of the 98 respondents with an opinion on the question, 65% answered "No." Some of the reasons provided for this belief included, continued low housing inventory, recent price growth, rising rents, the work-from-home revolution and high homeowner equity.
Get into the right mortgage for you.
Apply online for expert recommendations with real interest rates and payments.
So what does that mean for potential buyers?
The housing market, as it currently sits, is complicated. With rates up, and inventory low, the pool of potential buyers has decreased dramatically. On one hand, that means that potential buyers that are still eligible to buy at their desired price point will face shrinking competition. Though there are types of mortgages that will allow for low documentation, and adjustable rates beginning to resurface in the market place.
According to a Redfin study published on Wednesday, around 61% of home sales nationwide experienced bidding wars in April, down from 64% in March and the lowest rate of competition since March 2021. April 2021 when the housing market was exceptionally competitive. So while it may not be easy to buy a home right now, it is still a smart financial decision.
Riverside, California, saw the biggest decline in home buyer competition with an almost 22% year-over-year decrease, while other areas saw much higher bidding wars than the national average. The highest bidding war rate was recorded in Worcester, Massachusetts, at 76.9%; followed by Denver with 76.6%.
Low Inventory Continues to Obstruct Pending Home Sales
According to the National Association of Realtors Pending Home Sales, which measure signed contracts on existing homes, fell 3.9% in April, coming in weaker than the 2% decline that was expected. Sales were also down 9.1% year over year. There is no doubt that higher interest rates are impacting demand, but demand is still hanging in there, considering the increase in prices and lack of inventory.
"Incentives are back, as well as a shortage of inventory. There are some parts of town where finished homes are now taking days to sell rather than hours." Austin, TX Home Builder
What are we looking at right now in the current market? How are interest rates affecting home prices, if at all?
Demand remains high, with some clear signs of cooling.
First-time buyers have been hit hard by rising prices and mortgage rates.
The lack supply is staggering, with resale and new home supply nearly 80 percent below normal.
If demand drops significantly, there will be plenty of homes available to buy.
While the market is cooling, the conditions today resemble those of the early 1980s and early 2000s, not the late 1990s.
Keep an eye on these key metrics: months of supply and employment growth. Months of supply determines the direction of price, while employment losses will signal trouble ahead.
Phoenix Realtor: "With the rise of interest rates, and home prices along side of that, there is no way we can sustain the kind of sales numbers we've had in the last 24 months."
As far as resale home prices, you can make solid argument that, in some markets, the last 10% of price increases was purely aspirational. As interest rates climb slowly, we are likely to see that last irrational "last hurrah" for prices come off the top relatively quickly.
A large percentage of home buyers and first time home buyers are now modifying their purchase criteria. No longer are we seeing overbidding and hours on the market. Agent survey ties with underwhelming resale home sales figures recently.
Roughly 65% of agents report some buyers can no longer afford to overbid or cover and appraisal shortfall. As a result, the housing market may become less competitive.
34% of agents shared that some buyers have changed their search criteria, with:
58% seeing some buyers looking for a lower price point
43% seeing some buyers considering a less desirable location
Only 13% of agents indicate some buyers are cancelling contracts as a result of higher rates.
Homebuyer tip:
You may qualify to borrow more money than you are comfortable spending on a home. Explore the mortgage amount that best fits into your overall budget.
Luxury, second home, and vacation buyers are also pulling back, as discretionary purchase. Likely due to the fact that they are sensitive to overall investment portfolio and broader economic shifts.
Denver builder: "Higher rates are proving to slow sales slightly. The demand is there, but sales have definitely cooled."
There is one final group of people who could be affected by the market slowing: Investors. There are also signs of a slowdown in that segment. It's a more important point then one would think, given the significance of investors in the housing market the last few years.
Los Angeles Realtor: "Payment shock is causing contract cancellations for buyers who didn't find a property, got outbid and never had the opportunity to lock."
2022 has seen 950,000 homes for sale, very close to record lows. There are also approximately 14 million more households total then there were in 2007. At the same time, we are sitting at 3 million fewer homes for sale to that larger population. Freddie Mac states that, by their estimation, the US is 3.8 million undersupply to meet current housing market demands.
Though we did see inventory improve from March to April (approx. 1 million homes for sale at the end of April) This equates to only 2.2 month's worth of supply. While 6 months is considered a balanced market. This is the data that is causing the imbalance of supply and demand that promises to uphold home prices.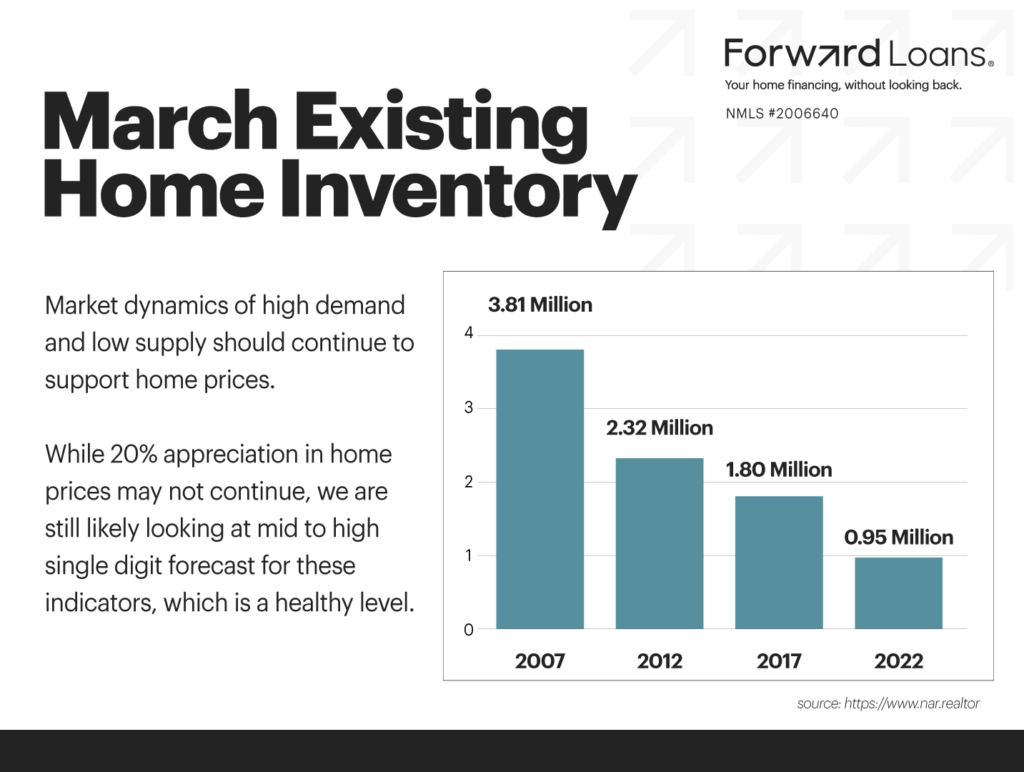 Overall, the market dynamics of high demand and low supply should continue to support home prices. This is completely different than the crash in 2008. While 20% appreciation in home prices may not continue, we are still likely looking at mid to high single digit forecast for these indicators, which is a healthy level.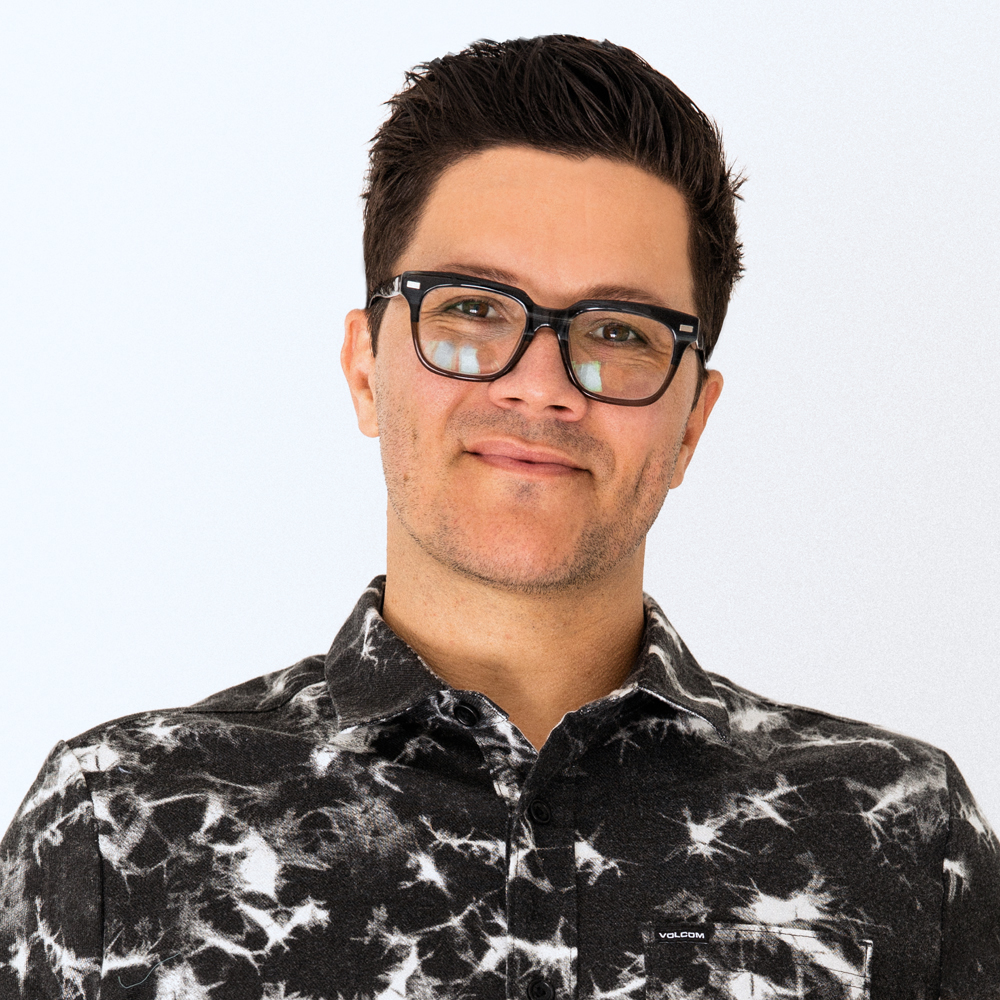 Michael Creel is a veteran in the marketing industry, with a proven track record of helping brands in the real estate and lending space build a strong presence across a number of social platforms.
He's built and implemented several marketing strategies and installed the digital and social framework to support several mortgage teams, loan officers, realtors, multiple new home builders as well as various brands in other spaces.
In 2020 Michael opened Forward Loans, a duly licensed mortgage brokerage, offering digital strategies and marketing automation to loan officers, while focusing on process and service for clients and employees.